Winsford Lifestyle Centre Solar PV System
Cheshire West and Chester Council have seen a significant boost towards its ambitious target date of 2030 to achieve carbon neutrality for the Council's own emissions, as well as a carbon neutral borough by 2045. This is due to the recent efforts of our team to complete the installations of the solar PV systems in Cheshire.
Last year we completed the 270.12 kWp solar PV system for Winsford Lifestyle Centre, one of the many completed for Brio Leisure in the last year. The system consisted of 607 x Longi Solar, LR4-72HPH-445M solar panels which were installed on an SFLEX mounting system with half the amount of P950 optimizers to connect to two solar panels each. The last parts to complete the system were the 6 x SolarEdge 30K inverters which were installed inside the building and wired up to the PV arrays on the roof.
The 270.12 kWp system is estimated to generate 211.88 MWh of energy and save around 50 tonnes of carbon emissions every year, which is the equivalent to 2,267 trees being planted. The pie charts below are showing the system production and the consumption of the solar PV system at Winsford Lifestyle Centre. so for example the blue section on the left shows how much energy they use roughly every year and the dark green shows how much energy the PV system produces so the light green shows how much energy will be leftover and be exported to the grid.
Max Achieved AC Power (kW)
Annual Energy Production (MWh)
CO2 Emission Saved (Tonnes)
We owe a massive thanks to Qwest Services for their help in this project. They manage the Council's Capital Works repair and maintenance schedules and submitted 14 buildings in the application for funding.  These buildings were identified as being the most appropriate for the installation of Air Source Heat Pumps, Hybrid Heating Systems, Solar PV (Photovoltaic), also known as a solar electric system, and/or light-emitting diode (LED) lighting.
Winsford Lifestyle Centre is the perfect place for the whole family to get active!
2 swimming pools cater for swimming lessons and casual swimming sessions alike, while the gym and fitness class programme are there for those that enjoy exercising out of the water! Winsford Lifestyle Centre also has a full health suite including steam room, sauna and jacuzzi – great to use after a tough workout!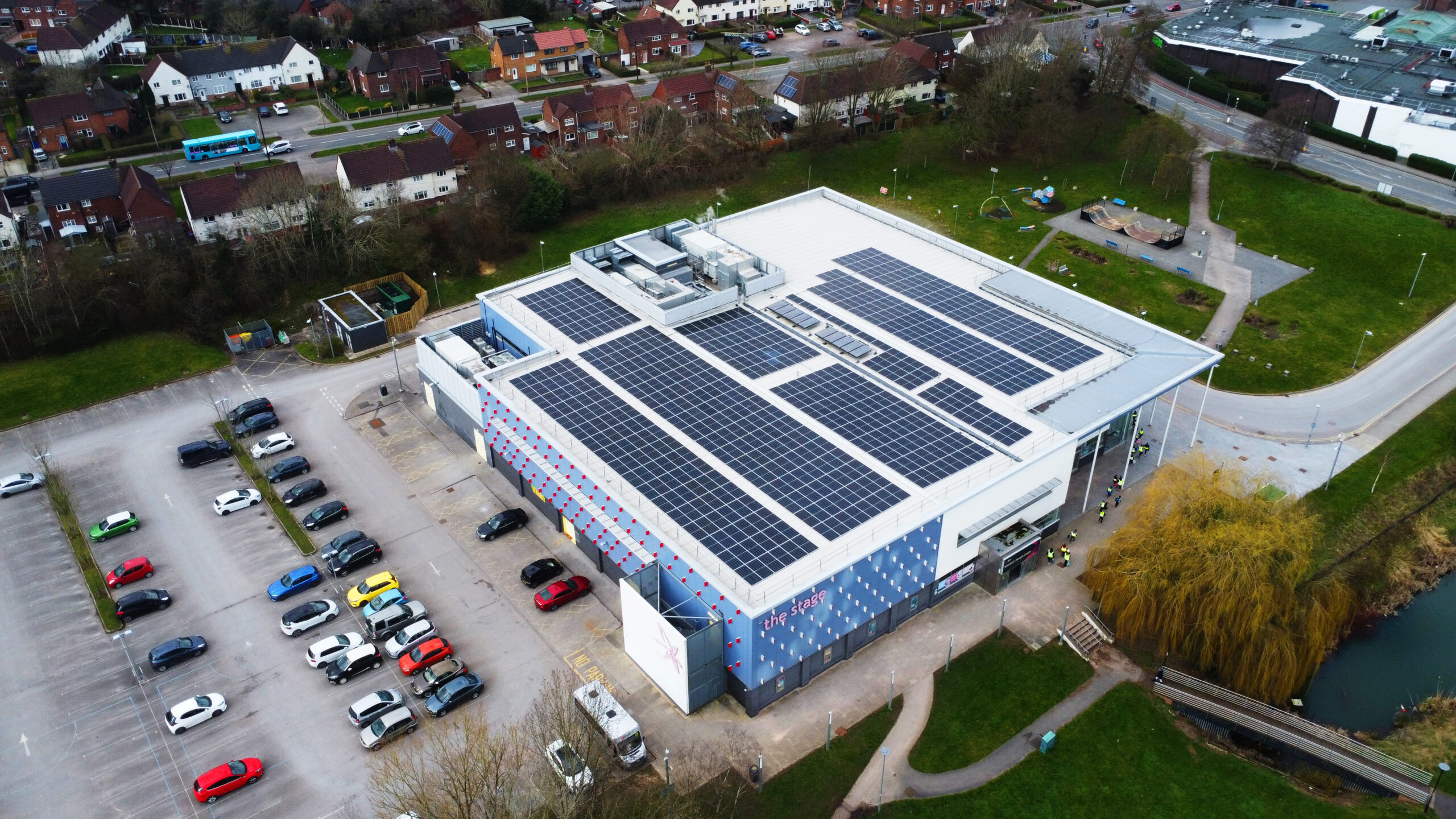 Solar Panel
Longi Solar LR4-72HPH x 607
Warranty
12 Year Warranty for Materials and Processing
25 Year Warranty for Extra Linear Power Output
Efficiency
20.5%
Dimensions
2094 x 1038 x 35mm
Weight
23.5 kg
Inverter
Solaredge 30k x 6
Make Enquiry
Please fill in your details below and we will be in touch as soon as possible