Hoole Primary School Solar PV Installation
Last week we were close to home in the city of Chester installing 92.12 kWp solar PV system for Hoole Church of England Primary School which was split on to two different roofs. The smaller roof consists of 36 x Longi Solar, LR4-72HPH-445M solar panels and the other 171 were installed on larger building, bringing the total solar panels to 207. We installed 104 x P950 optimizers which was used to connect to two solar panels each. Inside the building of the school, we installed 2 x SolarEdge 30K inverters in a small room which is off limits to pupils of the school. The inverters are then wired up through the roof and connected to the PV system.
Max Achieved AC Power (kW)
Annual Energy Production (MWh)
CO2 Emission Saved (Tonnes)
Why Should Other Schools Go Solar?
Save money on electricity bills – Schools can make huge savings on their electricity bills, allowing them to spend money on educational and recreational programmes.
Helps the environment – Solar PV system helps the environment by reducing the school's Co2 emissions. Hoole primary school saves 16.98 tonnes every calendar year. Do you want to help with climate change?
Education to students – Being able to communicate to the pupils the benefits of sustainability through a working example of renewable technology in their own school will provide more direct engagement, particularly in the subjects of geography, science, design and technology and IT. This can also help to inspire the wider community to take action to address climate change.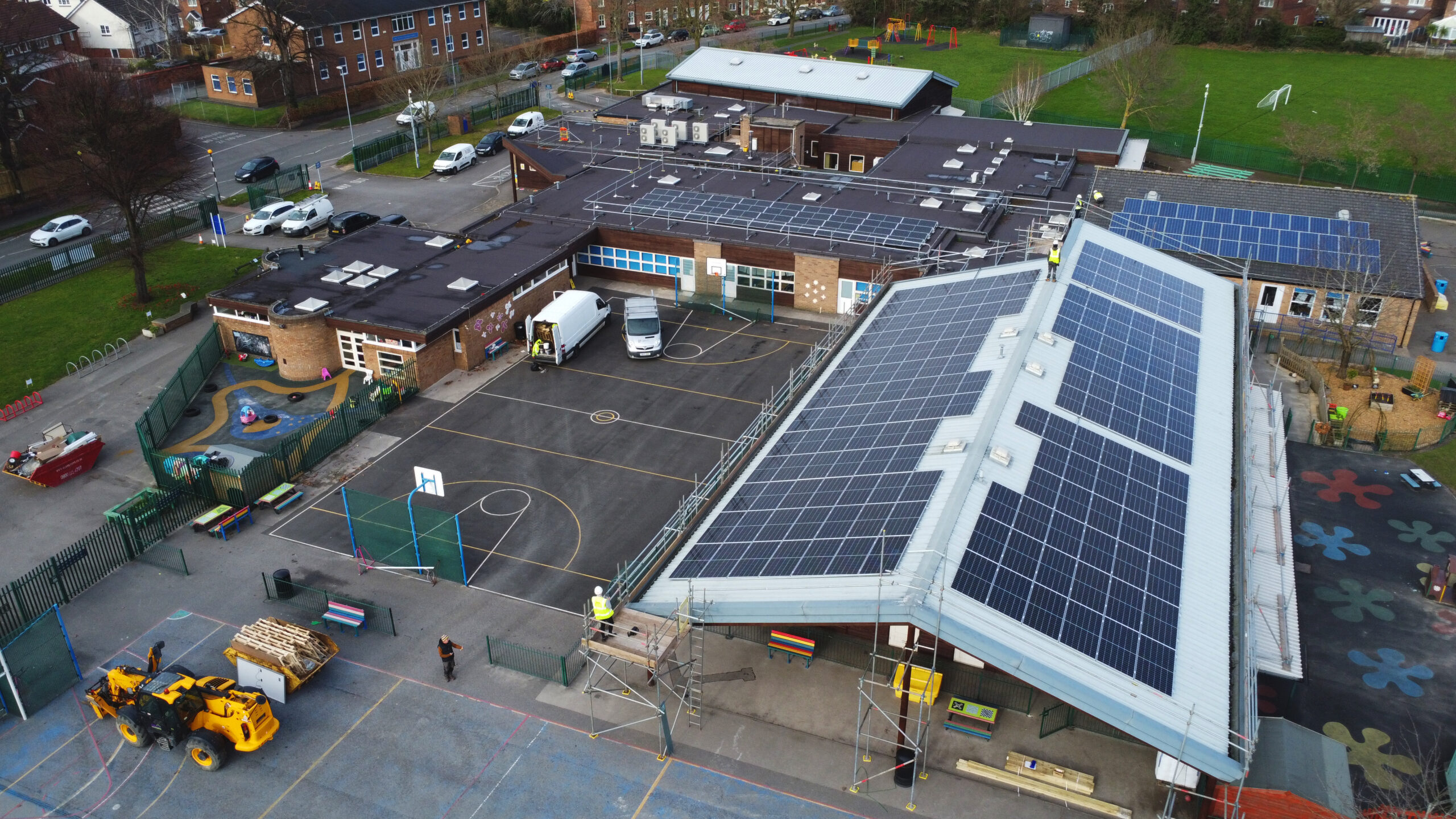 Hoole Church of England Primary School
Hoole Church of England Primary School is a two form entry school with around 380 children aged 4-11, serving the community of Hoole on the outskirts of Chester. They work at the heart of our community and have a close working relationship with the parents and families of the children. Parents and Carers are regularly informed about their children's progress and achievements and are encouraged to meet with staff to discuss their child's progress, celebrate their achievements and liaise on any concerns.
They have fourteen classes at Hoole. Their school is well resourced with computers, interactive whiteboards, vibrant work areas and well-stocked libraries, offering a wide range of reading material and a quiet place for study and research. We have large practical workspaces outside the classrooms which are used for a range of lessons and activities including art, design and technology, ICT and group teaching. They have three playgrounds (including separate infant and junior adventure playgrounds), a woodland area, a vegetable patch and class-sized greenhouse, a Peace Garden, an all-weather sports surface and two grassed playing fields.
Solar Panel
Longi Solar LR4-72HPH x 207
Warranty
12 Year Warranty for Materials and Processing
25 Year Warranty for Extra Linear Power Output
Efficiency
20.9%
Dimensions
2094 x 1038 x 35mm
Weight
23.5 kg
Inverter
Solaredge 30k x 2
Make Enquiry
Please fill in your details below and we will be in touch as soon as possible