Ellesmere Port Sport Sport Village Solar PV System
This 306.61 kWp is our largest solar PV installation of the year so far and looking to top this as the year goes on. We have entered this installation into 250k+ project category at the Energy Effiicency Awards 2022 and hoping it can come out on top. The system consists of a huge 689 x Longi Solar, LR4-72HPH-445M solar panels, 345 x P950 optimizers and 6 x SolarEdge 33.3K inverters which is used to power the gym and swimming pool facilities.
No matter how big or small your business is there are benefits from solar energy for everyone!. If you have a good range of roof space on your commercial property installing a solar PV system can be an extremely good investment as you will make money back in the long run as well as save money on your current electricity bills. It's not just beneficial financially, you can also help the environment by reducing your carbon footprint.
Another positive about solar energy is that you can store your energy and then use it when it is suitable for you. an example of when to use solar energy could be at a time of a power cut which has happened a lot in different parts of the country this week due to storm Eunice. So this can give bussinesses with a solar PV system on their site an advantage over other competitors without a solar PV system as they could be without power for a number of days depending on how bad the weather is.
Max Achieved AC Power (kW)
Annual Energy Production (MWh)
CO2 Emission Saved (Tonnes)
Ellesmere Port Sports Centre is packed full of great facilities and state-of-the-art equipment!
The centre has a fantastic 80 station gym that caters to all needs, as well as 95 weekly fitness classes and 2 swimming pools, ensuring your workouts will always have plenty of variety! The sports hall is also available for bookings such as badminton, and there's an athletics track and new 3G football pitch outside the centre too.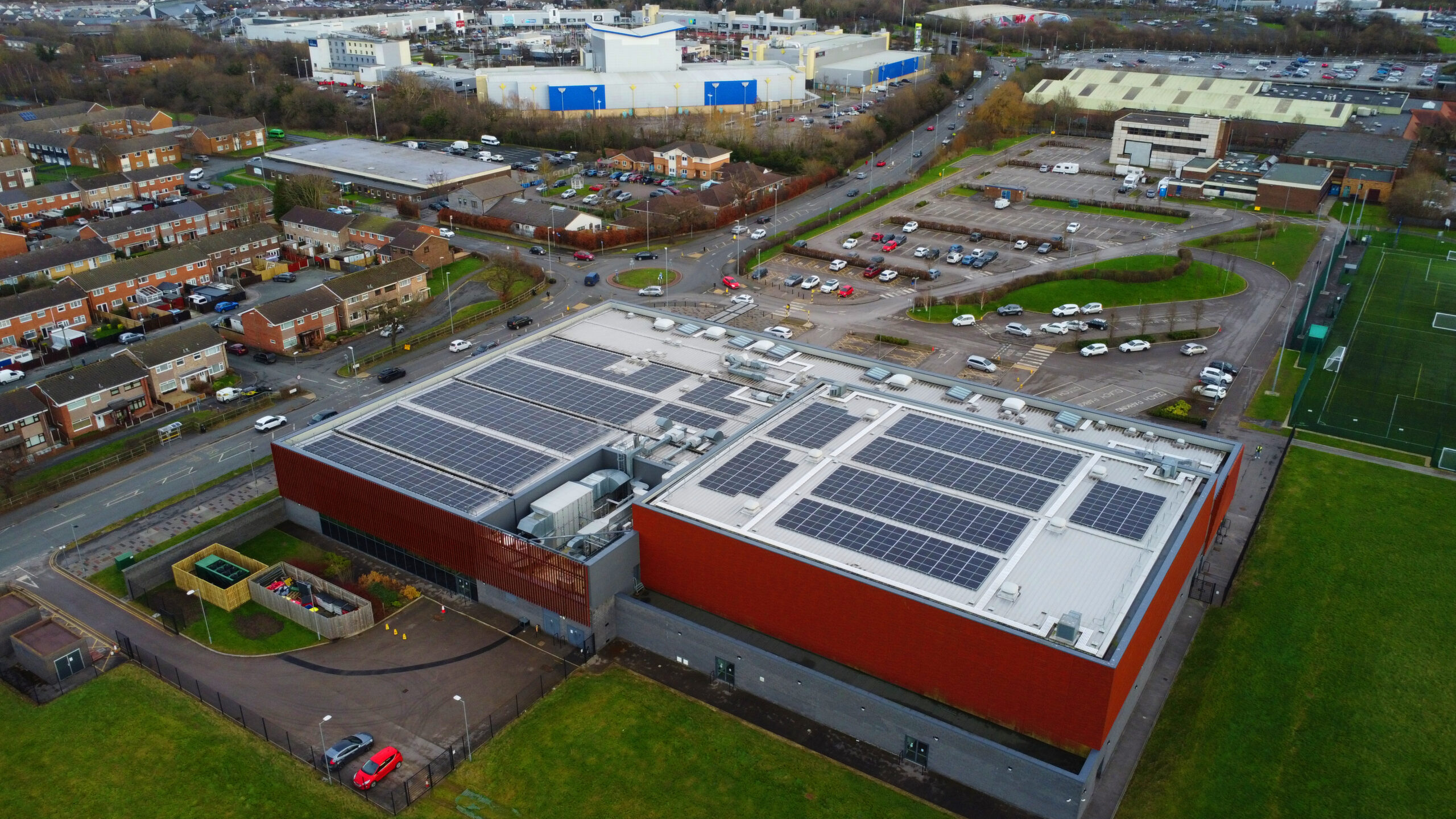 Solar Panel
Longi Solar LR4-60HPH x 1533
Warranty
12 Years Product Warranty
Efficiency
20.3 – 20.9%
Dimensions
1755 x 1038 x 35mm
Weight
19.5 kg
Inverter
Solaredge 27.6k x 1
Solaredge 82.8k x 2
Solaredge 25k x 2
Solaredge 55k x 1
Solaredge 50k x 3
Make Enquiry
Please fill in your details below and we will be in touch as soon as possible